Lately, I've found myself eschewing the jewelry section at Target in favor of fun, handcrafted earrings on Etsy and Artfire. The ones that draw me in the most are made with pretty glass or gemstone beads, and I only just realized why. See this?: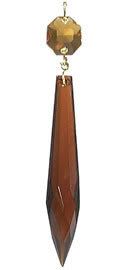 It's a lamp bead, very similar in both shape and color to the beads that hung from the lamps in my Grandmother's living room. In my Etsy travels today, I came across a pair of earrings made with beads that exact color, and the memory of being 8 years old and thinking the lamp beads would be awesome earrings came flooding back.
And while I'm at it, here are the links to my favorite jewelry artisan's
Etsy
and
Artfire
pages. Check her out!